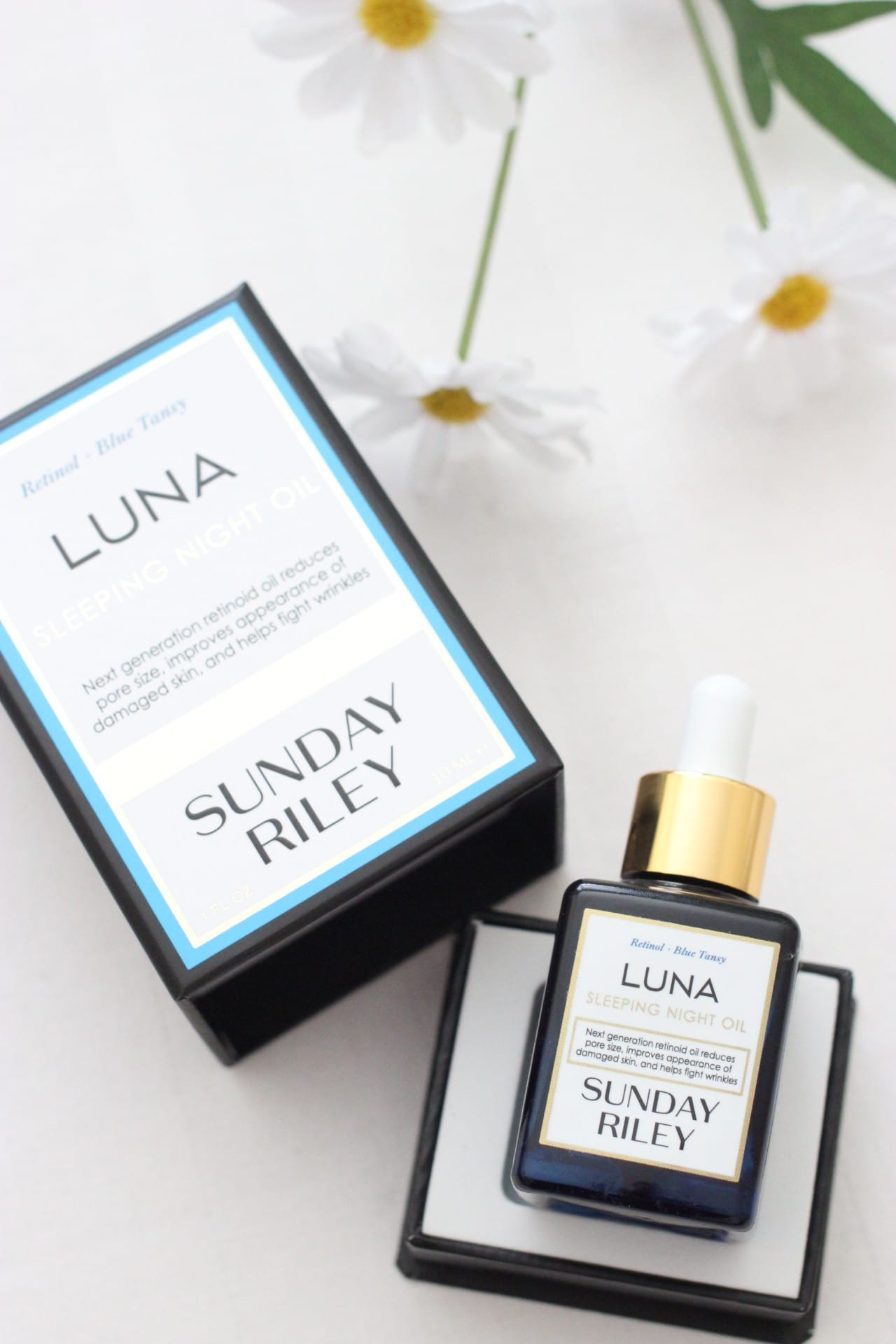 Now that I'm in my – ahem – late twenties, I really feel it's important to invest in good skincare. I've tried and tested many products throughout the years and although there are loads of drugstore skincare products that I love and use every single day, something I like to spend a little bit more on is serums and oils. I find that with serums, you get what you pay for. When I heard Caroline Hirons rave about the Sunday Riley Luna Sleeping Night Oil at the start of January I knew I had to have it. I picked it up around 3 week ago when it first hit stores in the UK so I feel like now is a good time for me to share my overall thoughts on this product with you!
Now let me just get this off my chest right now before I get started…I LOVE this product – L.O.V.E. That's a lot coming from me as I have sworn by Estee Lauder's Advanced Night Repair Serum as my evening serum of choice for around 4 years now (maybe even more!) and since buying Luna it's pretty much replaced my beloved EL.
"Next generation retinoid oil reduces pore size, improved appearance of damaged skin, and helps fight wrinkles."
After just one night of use I saw a difference in my skin…yip one night! After continuous use over three weeks, I'm pleased to say that the overall appearance of my skin has definitely improved. The biggest difference is probably my pores around my nose which have definitely shrunk and look a lot clearer. My skin also feels and looks a lot younger and more plumped. I don't have a huge problem with wrinkles other than some fine lines under my eyes (damn you genes) so I can't really comment on that but so far so good! I also feel like my skin tone looks a lot more even and just generally a lot clearer and youthful looking.
I think the thing that makes this different from any other serum or oil that I've used is the Retinol. Retinol is apparently really difficult to incorporate into creams and lotions – as soon as it's exposed to oxygen it oxidises, so more Retinol has to be added which then becomes too harsh on the skin. Sunday Riley have used a different strand of retinoid in this oil…don't ask me how to spell it, I have no idea. However, if you'd like to hear more about the scientific side of things, just check out Caroline Hiron's post here. The woman really is a beauty wizard when it comes to skincare.
What I can tell you though is that yes this is effective, yes it is pricey but YES it is certainly worth it.
Other than the revolutionary retinol formula, something else which makes this oil stand out from the crowd is the Blue Tansy. Yes, this oil is indeed blue. Not slightly tinted blue, proper BLUE. I must admit I had a bit of the fear when applying it for the first time thinking that there was a possibility I'd turn into The Wicked Witch of The East's long lost sister but it was all good. It sinks into the skin quickly…really quickly actually, and the blue completely fades. Blue Tansy helps to heal damaged skin and is quite a strong anti inflammatory so it feels very soothing. It does have quite a strong scent to it, some people hate it but I actually really like it.
So there you go. That's my 2 cents on the Sunday Riley Luna oil. I could probably have gone on forever about this oil but as always if you have any questions whatsoever, just leave them down below or tweet me @girltartanscarf and I'll be sure to reply to you!
P.s. in case you didn't already know, I have combination skin.
Sunday Riley Luna Sleeping Night Oil is available from Space NK for £85 here.
Have you tried Sunday Riley's Luna Sleeping Night Oil? What do you think of it?
Lots of love,
Chantelle xx
This is not a sponsored post.