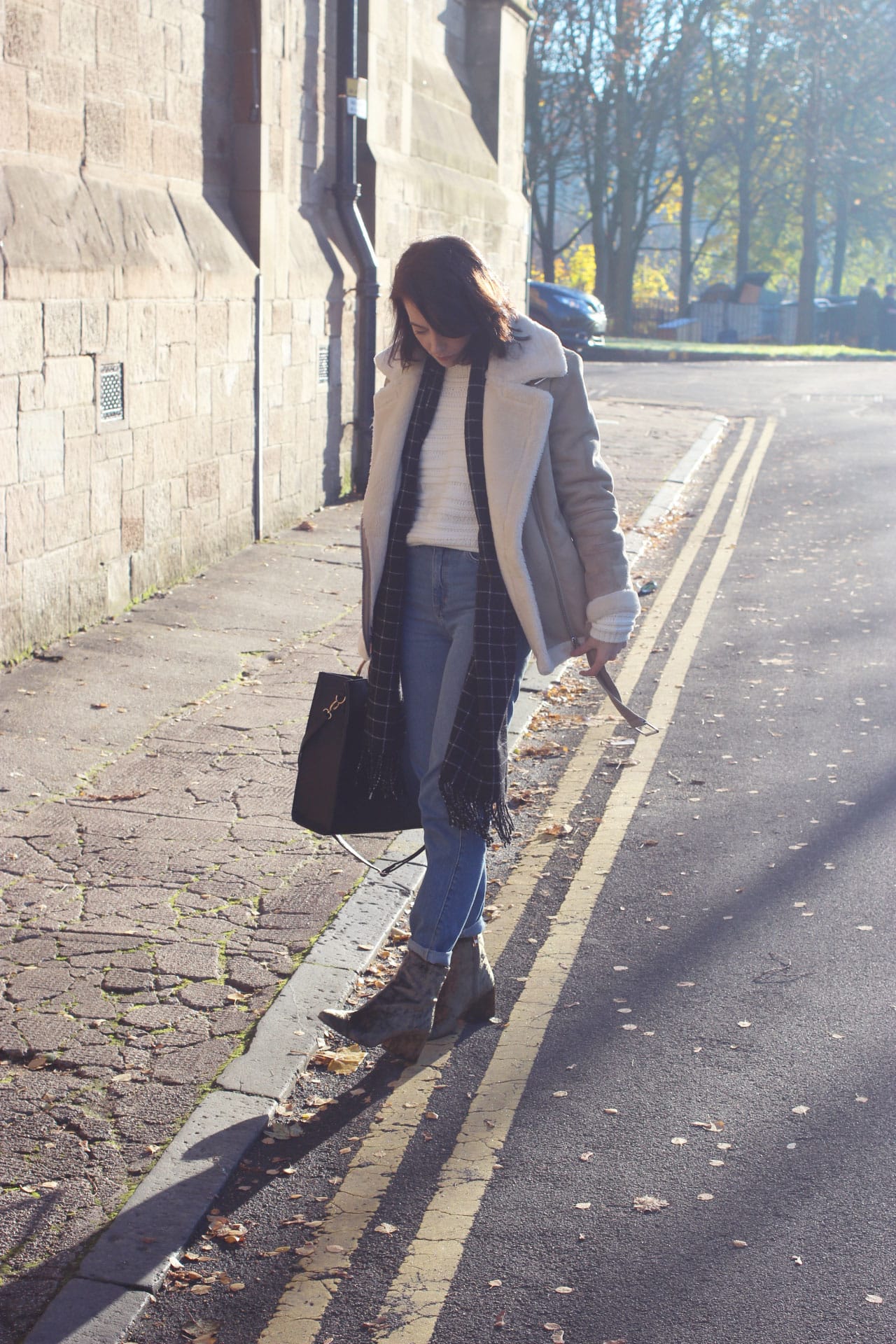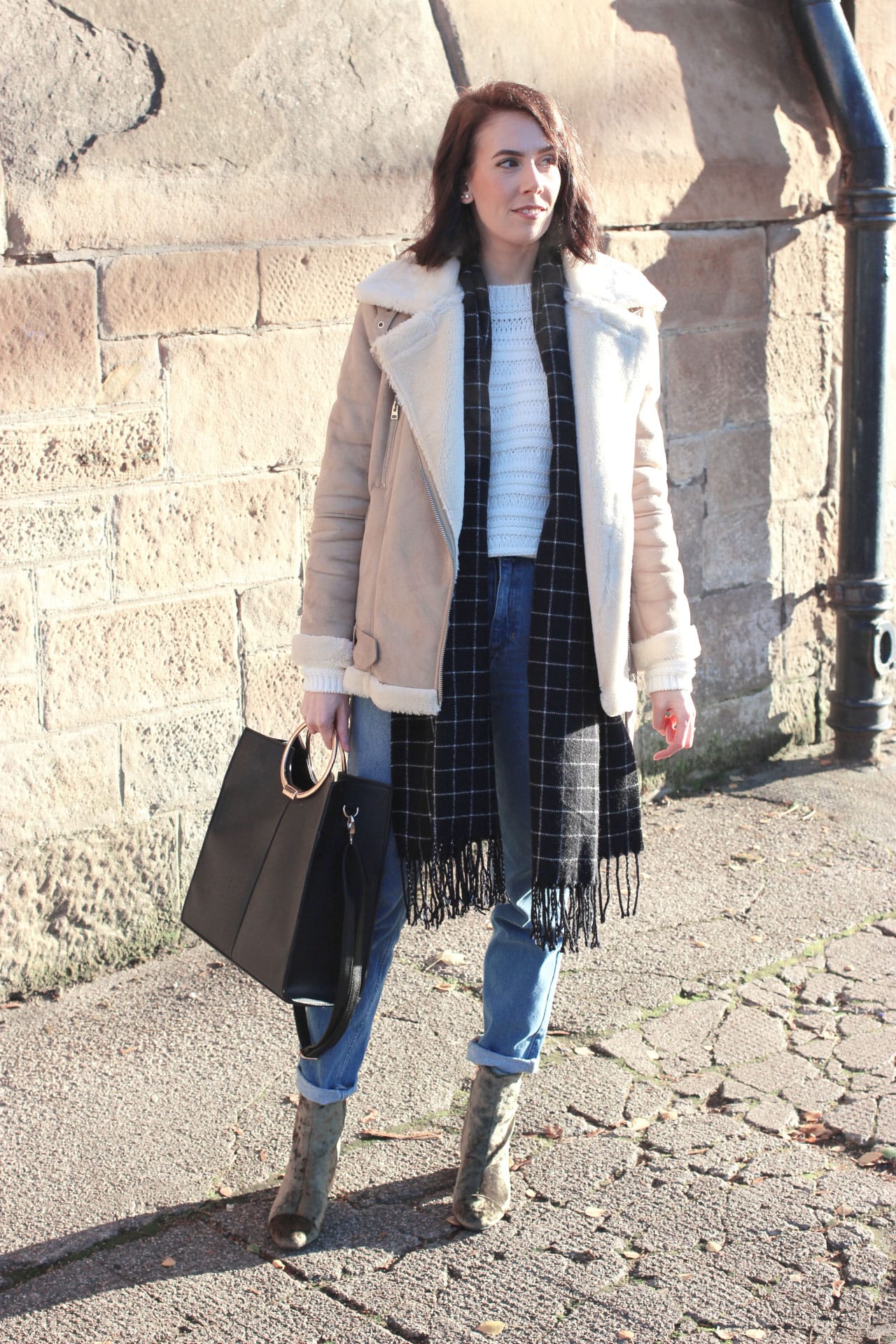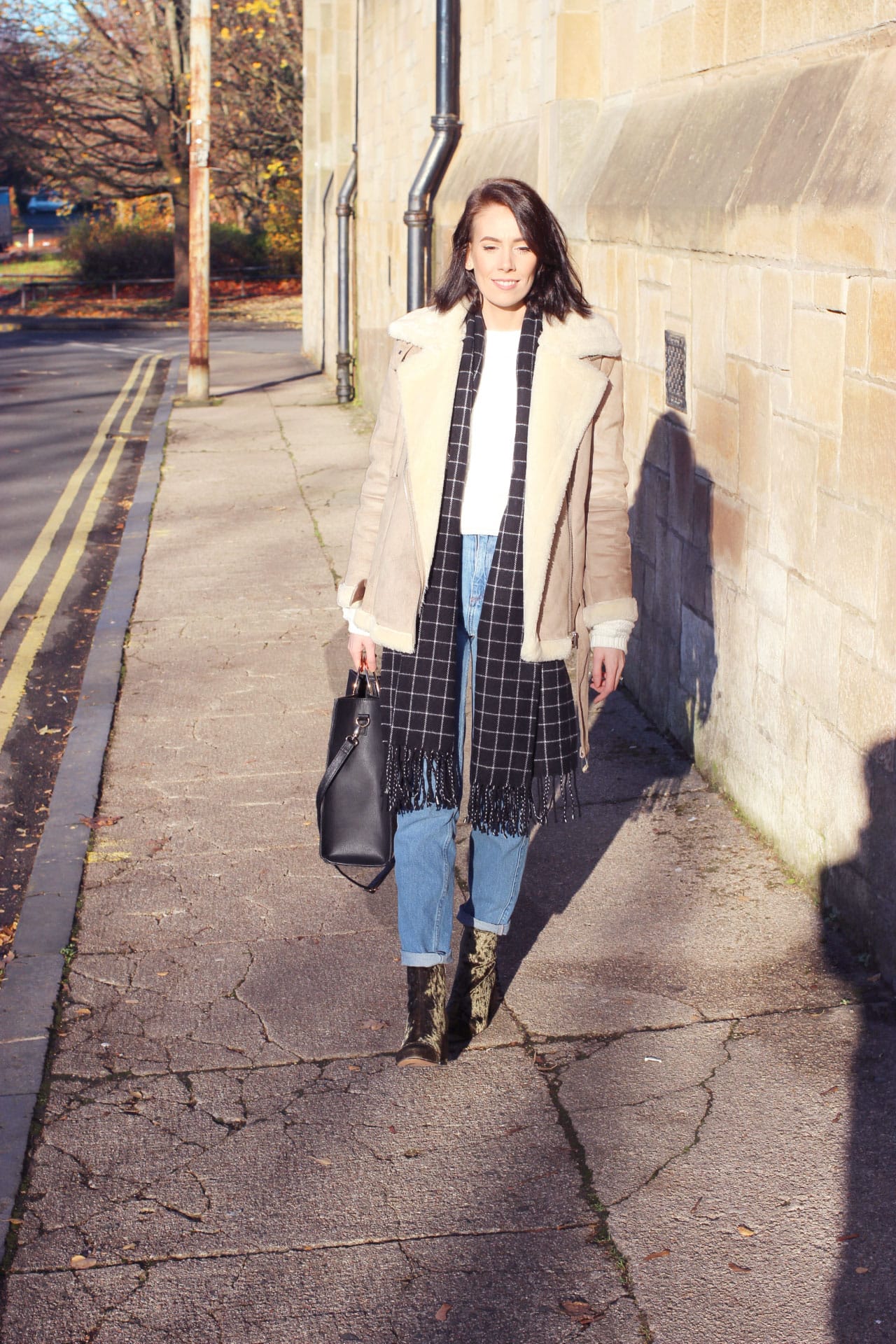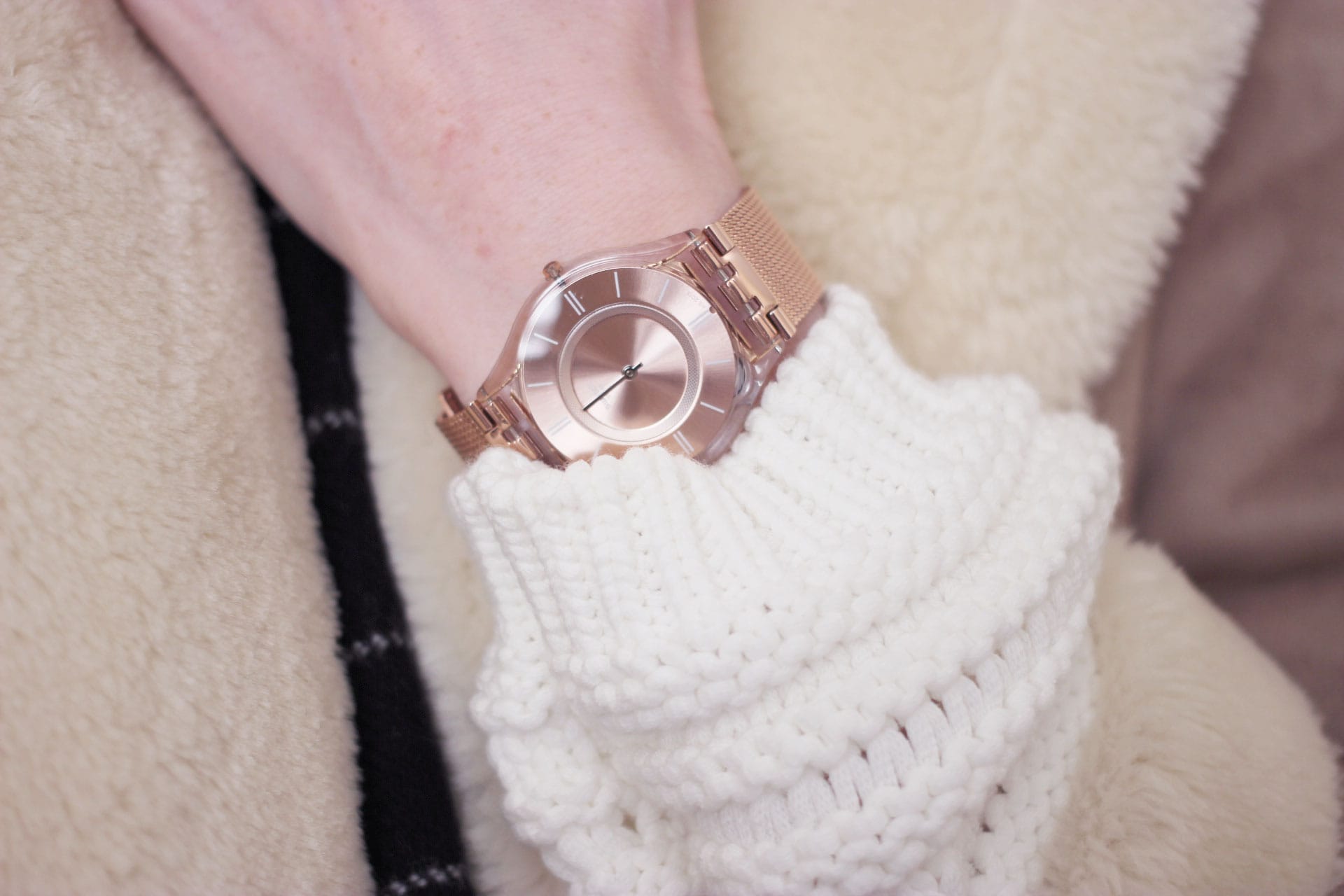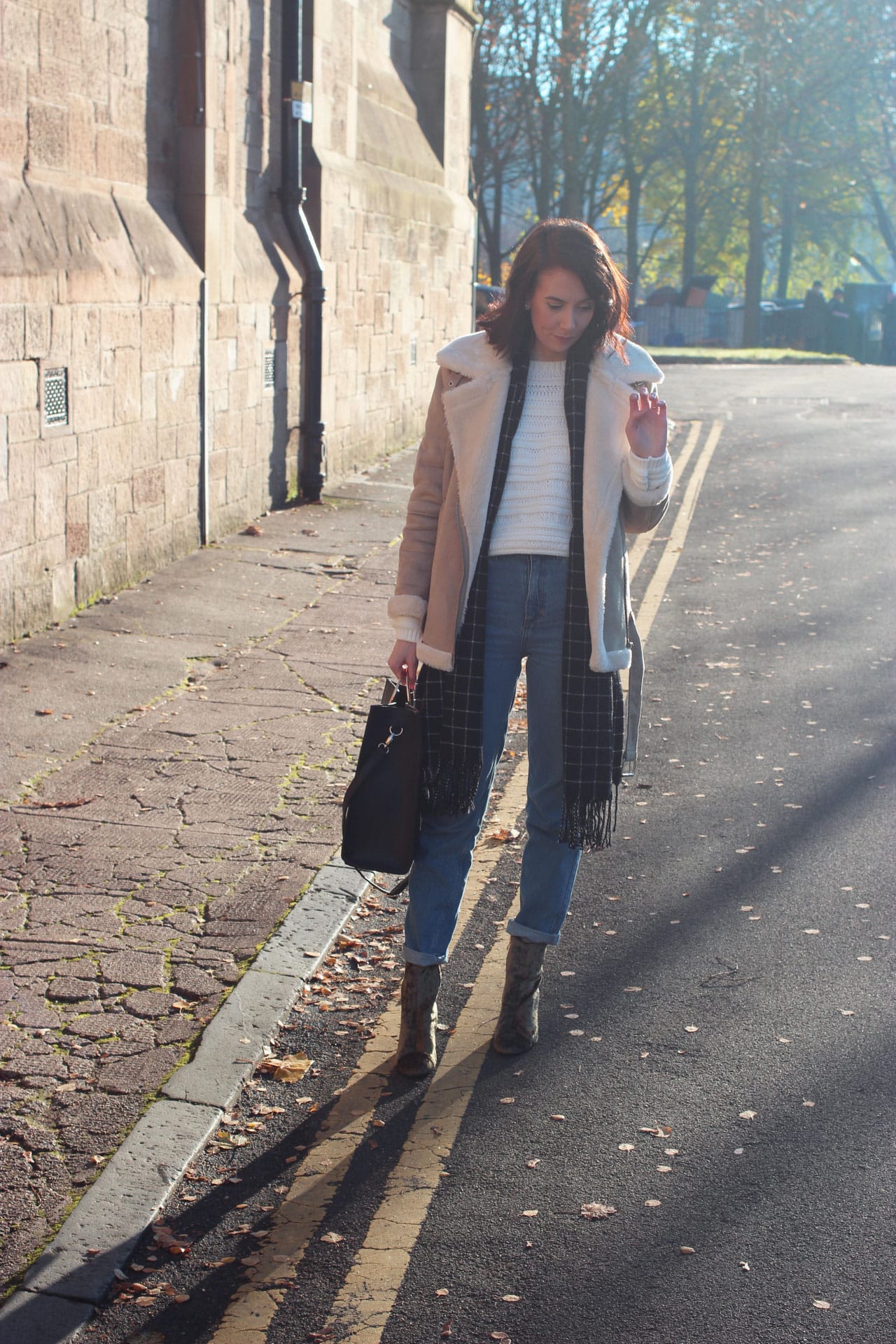 Topshop Shearling Jacket | ASOS Cable knit jumper (similar) | Ego Khaki Velvet boots | Swatch rose gold bracelet watch | Monki Check scarf (similar)| H&M Mom Jeans | Primark bag
It feels as though Winter has well and truly arrived in Glasgow and I couldn't be happier about it! There's nothing I love more than a cold crispness to the air and a sheet of white frost on the ground. By the time I'd ventured out the sun had appeared which wasn't ideal for taking photos but I thought I'd share these anyway because I was loving my choice of outfit!
This shearling jacket is actually a purchase from the start of the year from Topshop (similar here) but they're everywhere at the moment and it is the cosiest thing ever! I also have a similar one in black and I wouldn't be without them. They're the perfect throw on and go piece and look great with practically everything.
I kept my look quite simple because I was only popping into town to pick up some things so I threw on this ASOS thick cable knit jumper (similar) and these H&M mom jeans which I can't get enough of at the moment! Of course I had to wear these *Khaki Velvet boots from Ego. How amazing are they?! I'm seriously crushing on everything velvet at the moment and I love how these add a little somethin somethin to an outfit.
I also need to give a mention to my new *rose gold bracelet Swatch watch. There really aren't enough heart eye emojis to show my love for this! I actually can't believe up until this point I have never owned a watch from Swatch…am I saying that right?! Should it just be I've never owned a 'Swatch'?! Haha SEE I've totally missed out on this! Anyway, I digress. There's a new Swatch store opened up in Buchanan Street, Glasgow and when I saw this I knew I HAD to have it. I've already had so many compliments on it and it hasn't left my wrist!
To finish off the look, I grabbed my Primark ring bag. I still can't believe this bag only cost me £12! I'm having a bit of a moment with ring bags…ring shoes…just anything which incorporates gold shiny rings in general. I know. I'm weird. I actually saw a girl wearing it a couple of months ago and I was sure it had to be Zara so you can imagine my face when I spotted it in Primark! I think they still have some in stock so I'd grab one quick because I think it's one of those things that'll sell out fast!
I hope you're all enjoying this cold crisp weather as much as I am!
Are you loving the velvet trend?
Remember to follow me on Bloglovin and subscribe to my youtube channel so that you never miss a blog post/video!
SHOP THE LOOK:
Lots of love,
Chantelle xx
This is not a sponsored post, however it may include PR samples. Anything I have received will be marked with *
All opinions are 100% my own.