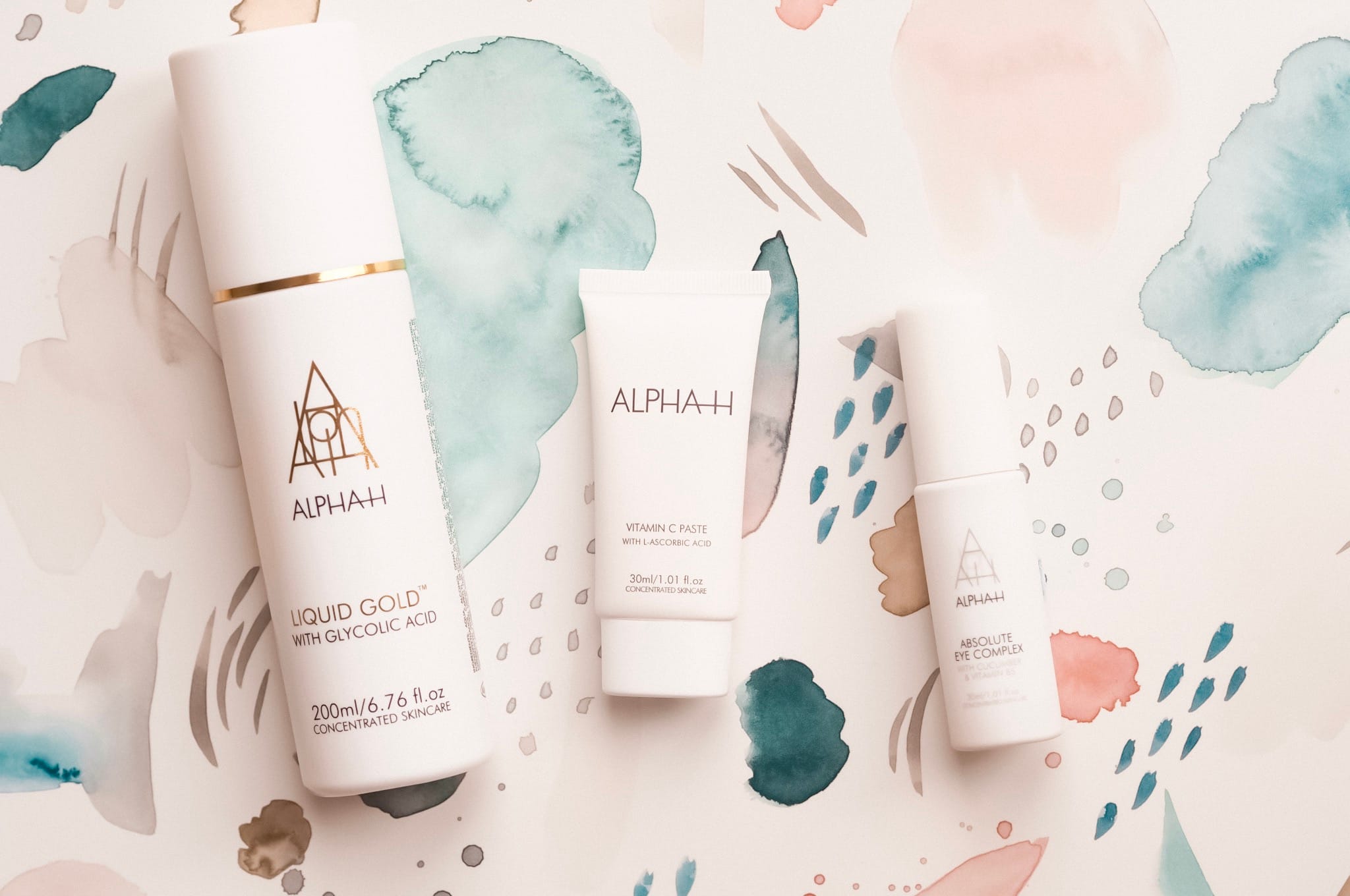 Hello my lovelies I hope you're all having an amazing weekend! Today I'm here to alert you all about a pretty amazing deal. Long term lovers of Alpha-H and those of you interested in trying out the brand for the first time – this post is for you!
For the longest time I've been wanting to try Alpha-H. Their 'Liquid Gold' with Glycolic Acid has pretty much had cult status since forever and with the likes of Caroline Hirons singing its praises you know it was always going to be a good'un. You can imagine how excited I was when this fab 3-piece set landed on my desk this week. I never like to post 'reviews' on here without properly fully trying products to see how my skin reacts but I need to tell you guys, I've tried Liquid Gold twice now and I think I might be a tad obsessed. So hear me out guys, bearing in mind I only received this set during the week (gifted), I tried it the first time in place of my usual toner. I double cleansed, applied liquid gold, serum(ed), eye cream(ed), moisturised, the whole shebang. I liked it. It felt nice and slotted in nicely to my existing routine. Any results in the morning? I mean it's almost certainly too early to tell I thought – I was right. My skin felt and looked nice (it's been on its best behaviour the past few weeks!) but not any nicer than usual. It was only of course the first try so I really wasn't expecting miracles.
However this is when it get's interesting. I read on the back of the bottle – and heard from loads of my fellow skincare freaks – that Alpha H Liquid Gold can also be used as intensive treatment. After cleansing you apply it all over the skin and do not follow up with any additional skincare. The thought of doing this gave me some serious anxiety but I thought I'd do it all in the name of science (or my blog – same difference right?) and see what's what. So that's what I did. I double cleansed in the evening then I applied this all over my skin with a cotton pad and followed up with a wee bit of eye cream. It felt SO weird not doing my full routine but Darren was pleased I didn't take my usual 10 hours getting ready for bed. It tingled a bit a bit after application then dried down. I love my evening skincare routine so it was weird not following up with my usual hydrating serum and rich moisturiser. However I had faith in my fellow skincare hoarders and trotted off to bed. The morning came and I could not believe how good my skin looked. Like wow. Glowy, bright, plump and somehow smoother! Hands down I think this might be one of fastest working products. My skin honestly looked like it had been 'reset'. I've seen a few people using this word about it and it really is the best one to describe it! I kept catching glimpses of my makeup in the mirror during the day and thinking it had never looked better. The same feeling I get the day or two after I've had a professional chemical peel done.
So what do Alpha-H say about it?
Alpha-H "revitalises and assists in firming the skin in a single application through a multi -action formula of silk protein and licorice…In the very simplest of terms, Liquid Gold is a Glycolic Acid based chemical exfoliant; a skin resurfacing treatment which works as a toner, an exfoliator, a serum and a moisturiser. … As such, skin is left brighter and clearer, with less lines, wrinkles, sun damage and pigmentation."
If you want to hear more about the science behind it then head over to the Alpha-H website (here) – I'm actually fascinated by it! From what I can gather though – in very very simple terms – it penetrates deep into the skin and helps to increase the natural production of hyaluronic acid, leaving skin brighter, clearer with less lines, wrinkles and pigmentation. An important thing I should mention is that it should only be used in the evening and always make sure to use a high SPF during the day as using this will make your skin more sensitive to the sun. I recommend La Roche Posay Anthelios SPF50 – I wouldn't be without SPF 50 during the day.
So what's the deal?
Ok finally onto the good stuff! QVC currently has the supersized 200ml bottle of Liquid Gold along with the brand new Alpha H Vitamin C Paste and supersize Absolute Eye Complex as a 3-piece Get The Glow Collection all for only £40 available until the evening of Sunday 8th Sept – it costs £40 alone for the Liquid Gold so all in this is an amazing saving! If i hadn't been kindly gifted this set I would be jumping on it so if you've been wanting to try out Alpha-H for a wee while and haven't got around to it then now is the time. Likewise, if you're a long term fan this set also includes the brand new Vitamin C paste which sounds so dreamy so again it's the perfect time to treat yourself. It's obviously early days so I can't update you on the Vitamin C paste and eye cream as yet but I'll be reporting back once I've given them a good test.
If you'd like to check out the Alpha-H Get The Glow Collection, it is available for £40 from QVC here. The deal will be available until Sunday 8th September 2019.
Remember to follow me on Bloglovin and subscribe to my youtube channel so that you never miss a blog post/video!
Lots of love,
Chantelle xx
This is not a sponsored post. The set was kindly gifted to me for PR purposes.
All thoughts, opinions and creative direction are my own.
Affiliate links may be used.