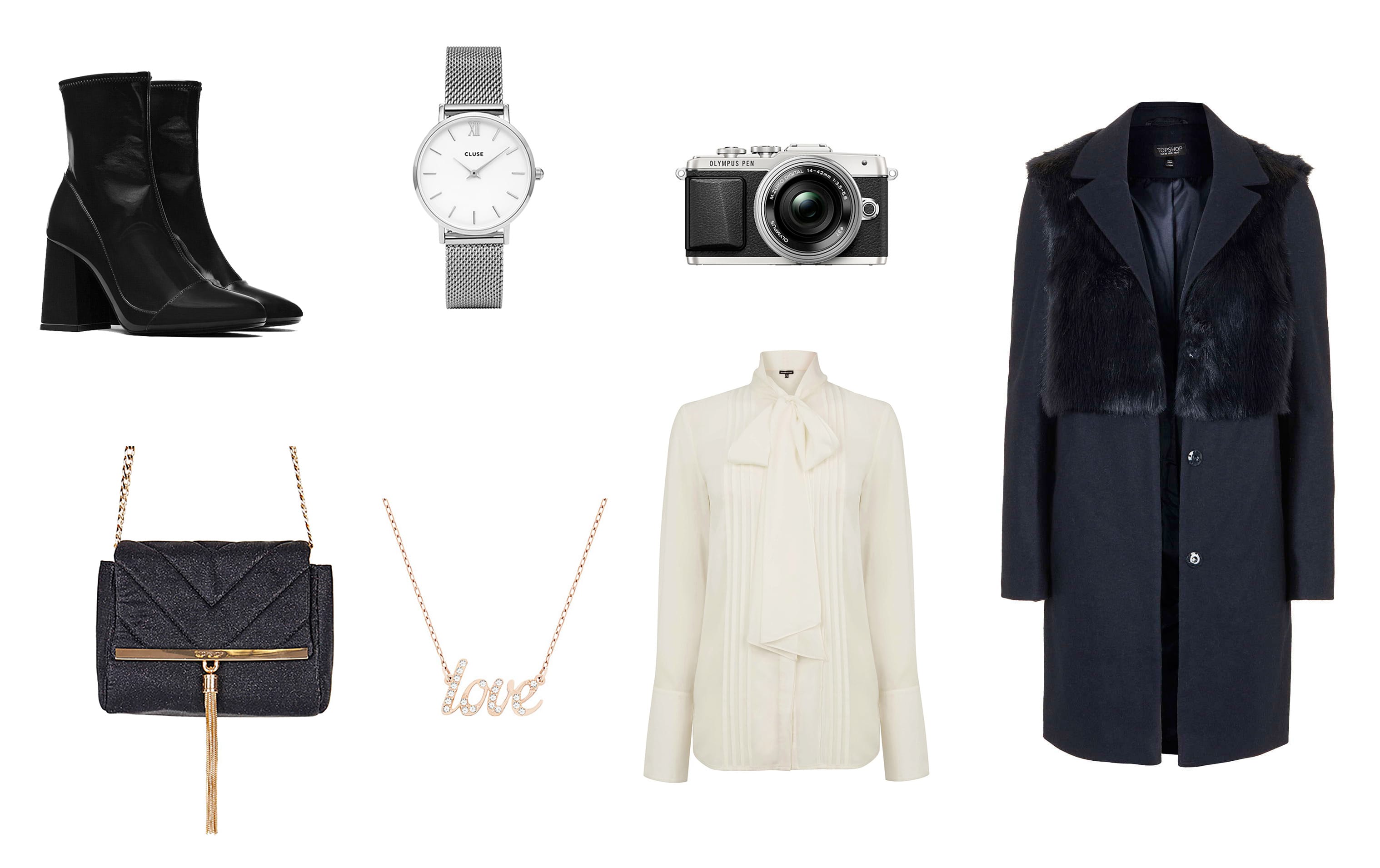 Since it's officially 16 sleeps until the man in the red suit arrives – I KNOW, where has the time gone – I've decided to do a wee Christmas wish list…I can't promise that some of these wont become a 'to me from me' gift to be totally honest with you! Aaaaah well, it's Christmas…
Zara Black Patent Ankle Boots – £39.99: How can I not include these Chloe inspired patent boots. The squared off heel is both a statement plus practical for everyday wear. I'm obsessed with the burgundy ones too!
Cluse Minuit Silver Mesh watch – £65: Now you guys know I'm not usually a fan of silver jewellery but since getting engaged I've begun to love it again. I usually wear a rose gold watch and don't really mind mixing metals but the watches I have are quite chunky and it looks too obvious beside my engagement ring. It was a toss up between Cluse and Skagen because I love both, however Cluse won on this occasion because I just love how delicate and classic this one is.
Olympus Pen E-PL7 – £449.95: Now it wouldn't be a Christmas wish list if I didn't throw in a ridiculously, ahem, pricey item. Meet the Olympus Pen E-PL7. The camera on every bloggers lust list. Don't get me wrong, I love my Canon DSLR but I absolutely love taking photos on the go and carrying a hefty DSLR isn't always practical. I've been torn between the white and black for ages but knowing me the white one would end up black within a week…I also love how retro looking the black one is too. Hey, a girl can dream right?
Topshop Navy Hybrid Coat – £55: Right guys, I'm not going to lie, I've looked at this coat online every single day since it got reduced from £89 to £55 and I'm actually surprised at how restrained I've been! Topshop really know how to bring it with winter coats, I'm completely obsessed!
Topshop Shimmer Quilted Cross Body bag – £25: Firstly it's a mini bag – check, and secondly it has an air of YSL about it – double check. Need I say more?
Swarovski Love Necklace – £59: Jewellery is one of my favourite things to receive/treat myself to because it's something you can cherish forever. I've been eyeing up the gold version of this 'love' necklace online for the longest time but it's completely sold out on Swarovski online. The rose gold and silver are beautiful too though!
Warehouse Pussy Bow Blouse – £42: I can't get enough of pussy bow blouses at the moment and this one would see me from Winter right through to Spring. I love how classic they look and pair amazingly well with both jeans for a smart casual look, teamed with black trousers/skirt for a business/smart look or even a skirt and thigh high boots for a playful look!
I hope this gave you some inspiration if you're thinking of buying yourself a wee treat this Christmas or if you're buying for someone else! Stay tuned for more exciting Christmas related posts/videos in the coming weeks!
Lots of love,
Chantelle xx
This is not a sponsored post.