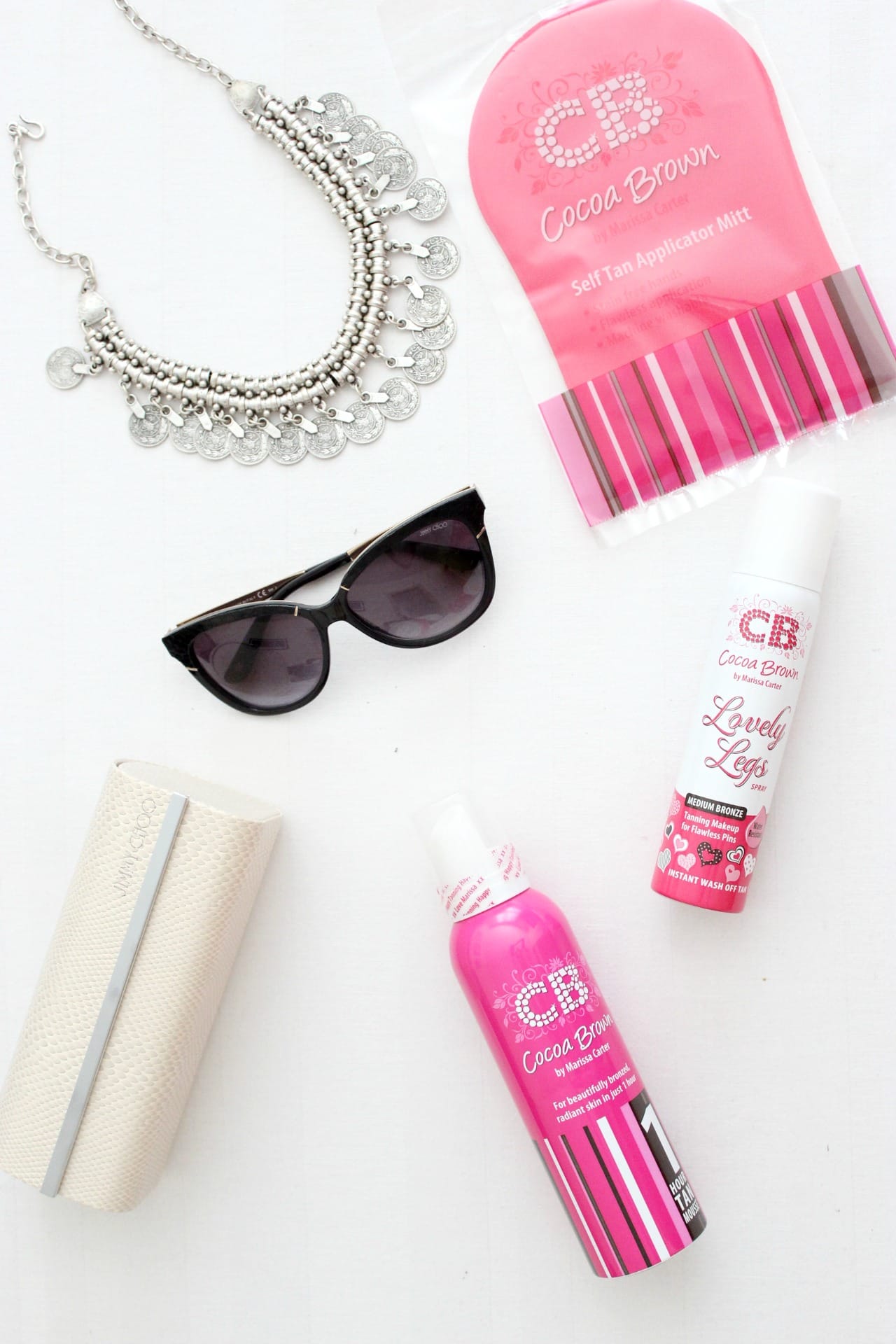 It's no secret that I'm a major fan of a faux glow so when the lovely ladies at Cocoa Brown contacted me to see if I'd like to try out a couple of their products I jumped at the chance. You might already know that I have a few favourites when it comes to fake tan, one of them being St Tropez Self Tan Express. The major selling point being that it's fuss free and allows you to avoid the messy bedsheets, the only downside is the price tag…enter *Cocoa Brown One Hour Tan.
Cocoa Brown's one hour tan, as the name suggests allows you to apply and leave for as long as you wish (one hour being the minimum) to achieve your perfect tan. Firstly I need to talk about the texture of this mousse because I LOVE it! I've never tried a tanning mousse like it, and believe me I've tried a lot. The only way I can describe it is it feels 'dry' and very light in texture, almost like a hair mousse. I don't know if that's due to the nozzle but it makes application very easy because it doesn't run everywhere. It also dries instantly, which again I love because I don't feel the need to walk around my house in my birthday suit waiting for it to dry…this is probably a good thing for my neighbours. For me, personally I prefer quite a deep tan so I found the shade to be a little too light even when I left it on for a good 6 hours. However, I don't find this to be a negative at all because this tan actually comes in a dark version too, it just seems to be incredibly difficult to get a hold of at the minute. I"m taking this as a sign that it must be good!
For fairer skinned gals though, I think you're going to love this tan. It looks really natural, and (on me) gives a nice light golden, olive glow. It's also perfect if like me, you hate wearing fake tan to bed or are extremely last minute because you can literally pop this on, leave it for a couple of hours, rinse and voila! Onto the scent. It definitely does smell like fake tan but it's nothing overpowering. It also has a little bit of a floral scent to it which I don't mind at all, and it doesn't linger on the skin once it's been washed off. I usually don't feel the need to top up my tan until around the 5 day mark when using this, which I'd say is pretty standard for most fake tans that I use so all in all I'm really impressed and I can't wait to pick this up in the darker shade!
I was also sent the Cocoa Brown Lovely Legs Spray which I can't wait to try so I'll keep you updated on this once I've given it a go. I believe Cocoa Brown is now easily available in the UK. I've seen it in Superdrug, Feel Unique and even Primark so I'd definitely recommend picking one up if you're looking for a good affordable fake tan.
You can pick one up from Superdrug for £7.99 here.
Have you tried Cocoa Brown One Hour Tan? What do you think of it?
Lots of love,
Chantelle xx
This is not a sponsored post although Cocoa Brown kindly gifted me these products.