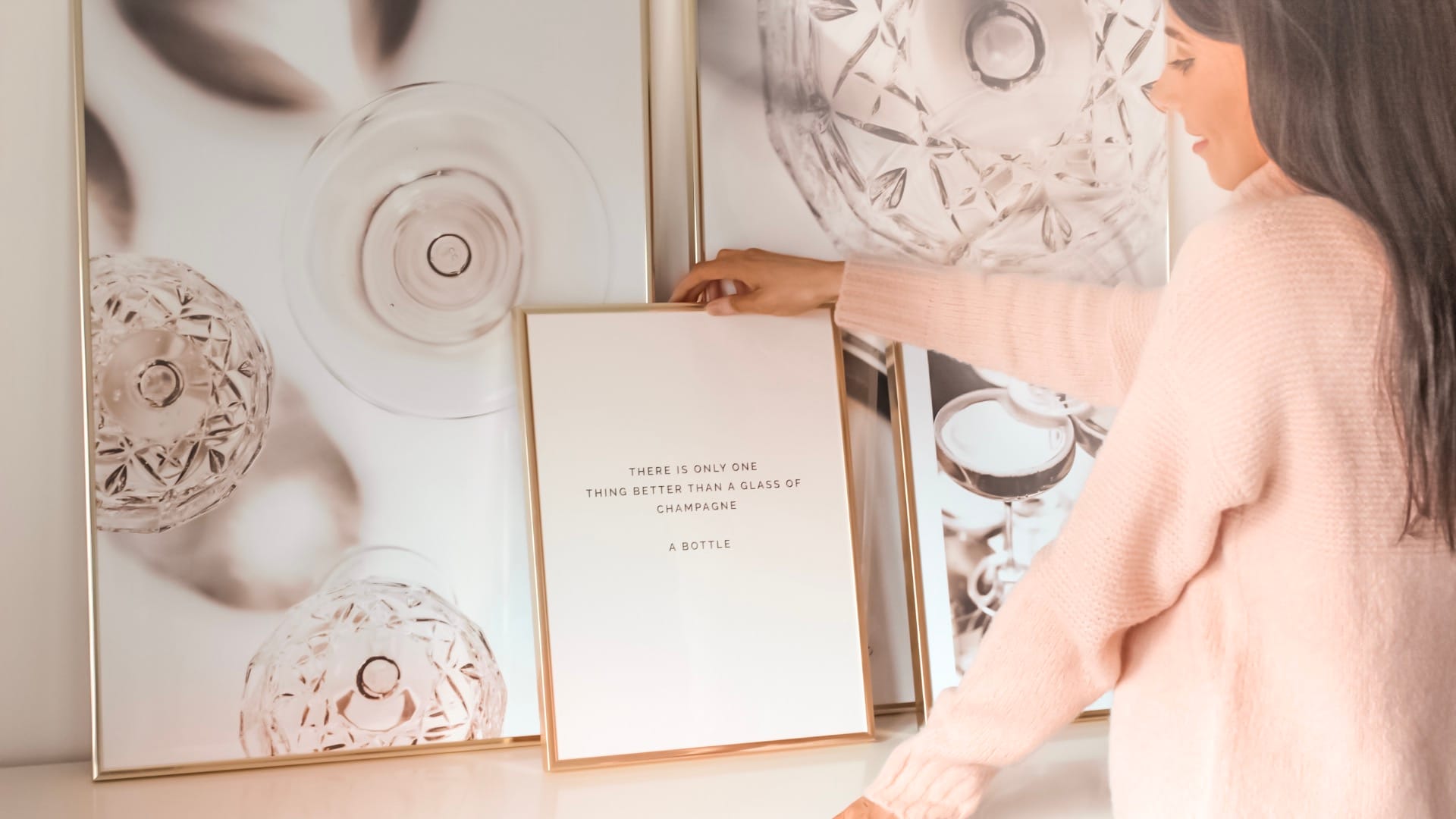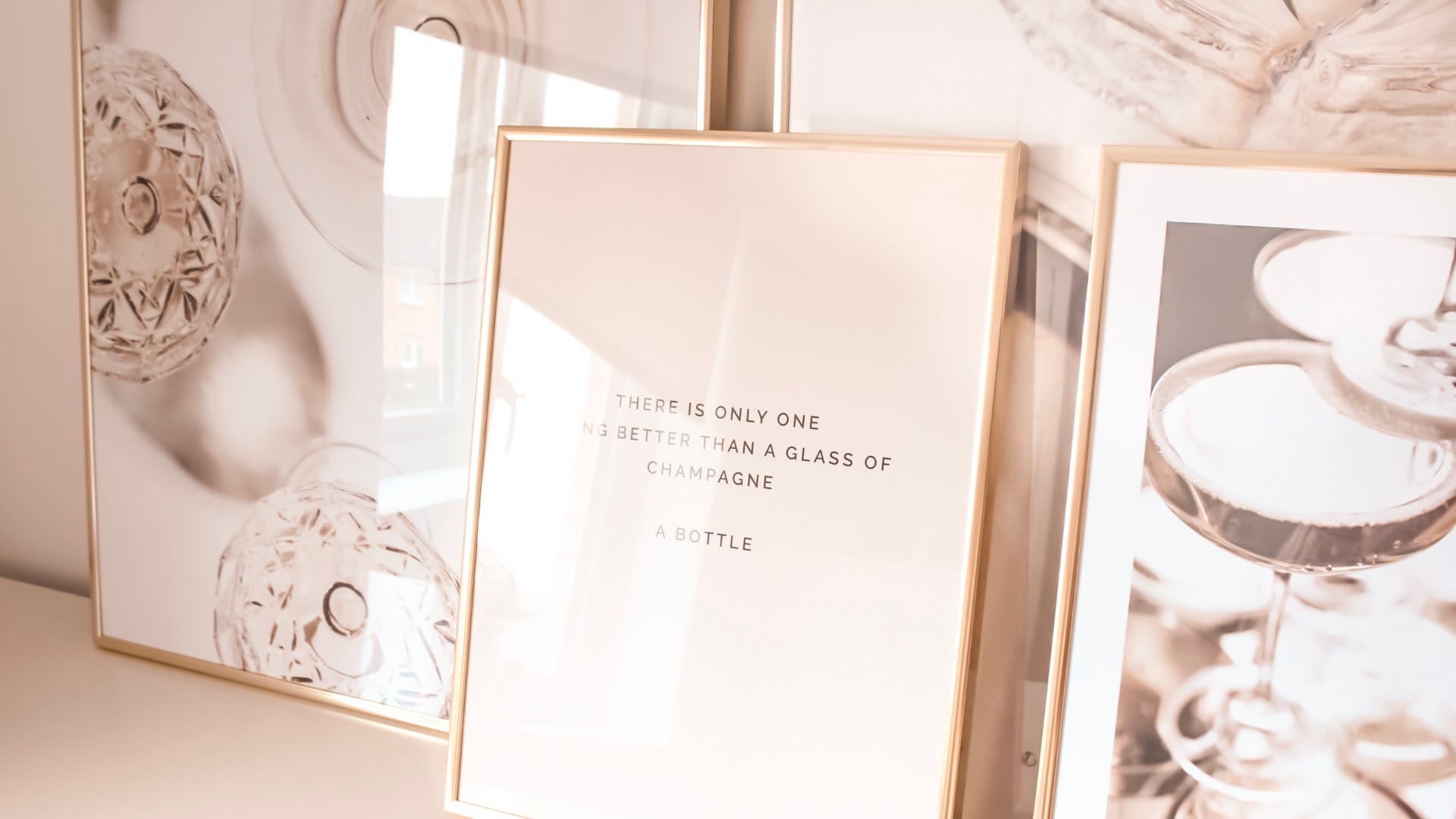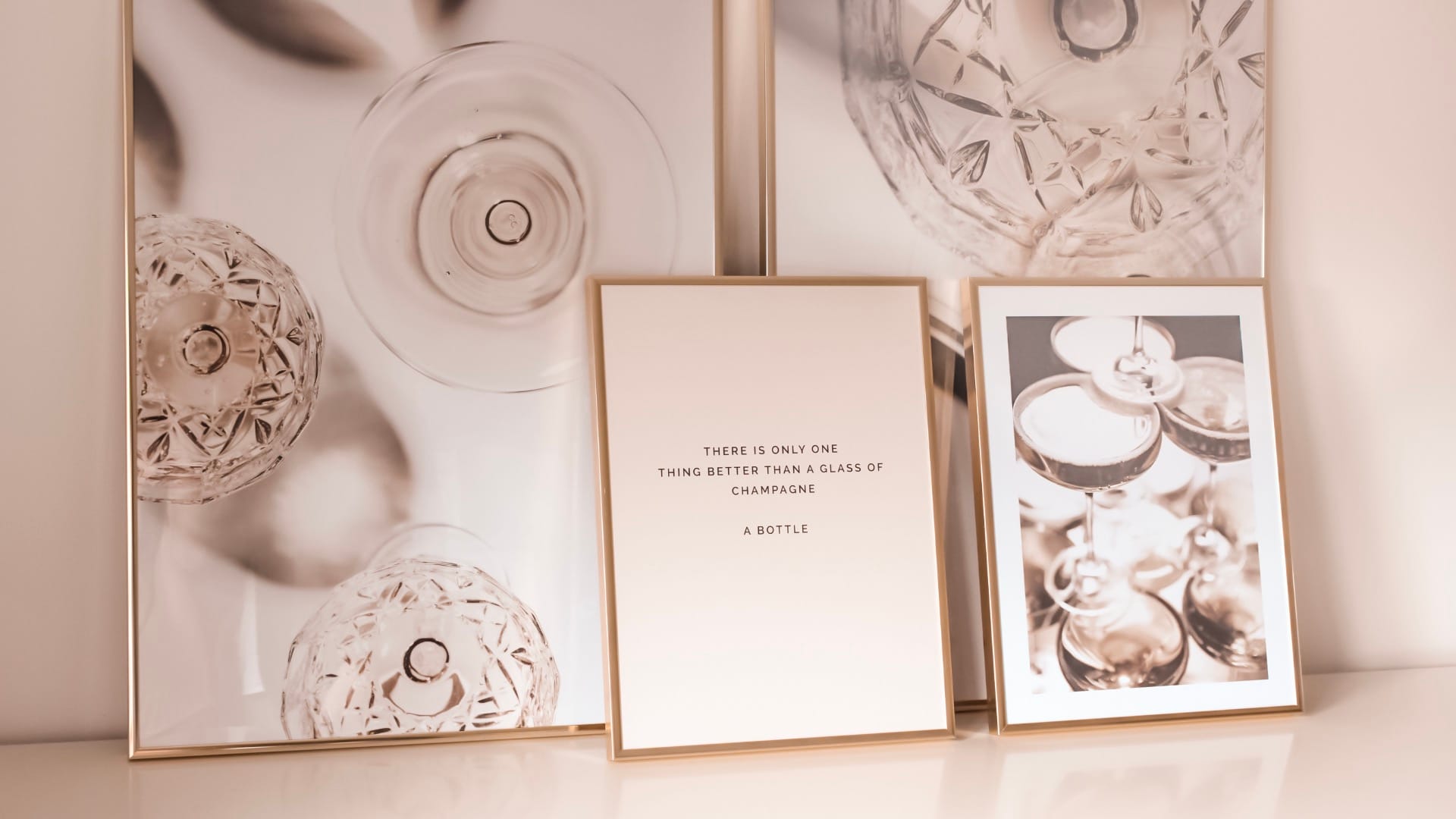 Happy hump day lovelies! Today I'm back with another wee home update. Spring has arrived and it's really given me a push to get some more things done around the house. As you'll know, we moved home in December and since then everything has been pretty much been non stop with decorating. We still have a long way to go but as we slowly but surely work our way around the house finishing off the 'big jobs' I don't want to forget about the little things that make a house a home – very important if you ask me. It's good at the end of the day to be able to go into a room, close the door and feel relaxed in the surroundings. For this reason I've been trying to add some Spring accents here and there and the lovely guys and gals over at Desenio have also been helping out in this area.
GALLERY WALL
If you haven't heard of Desenio where have you been? For the past couple of years I've been lusting after some of their beautiful prints for our home but as we knew we'd eventually be moving in the near future we held off buying anything. Fast forward to today and I'm so pleased to be able to decorate with some of their beautiful prints. We decided to pick some out for our dining room – it's looking pretty bare at the moment and I just can't wait to hang these up. The great thing with Desenio is that they also have a gallery wall tool on their website where you can find designs and frames that match each other and see how they look on a virtual wall – pretty nifty huh? I've been spending quite a good bit of time using this tool. I have 19 saved versions of different variations for all the walls in our home and keep pestering Darren to look at my latest design…I think it's safe to say he's tiring of it ha! In the end I just couldn't see past these champagne prints – perfect for our dining room. We haven't yet hung them for a couple of reasons – we're having paint issues (trust me, this is a tale for another time) and secondly because we can't quite decide on whether we would like them all on shelves, pretty similar to how we've displayed them here or whether we would like to hang them as illustrated on the Desenio website. To be honest I love how they look on my dresser at the moment so much so that when I finally decide to move them to their long term home on the dining room wall, I think I'll need to get some replacements for this area!
If you're looking for prints to spruce up your home for Spring I would highly recommend you check them out. The prints come in a range of different sizes which you can purchase with or without frames and there really is a print to suit every single taste and for every room in your home.
They have also been so kind as to give me a discount code for you lovelies for 30% off posters (except on frames and on handpicked/collaboration/personalised posters) using the code TARTANSCARF2 which will be valid from 19th – 21st March 2019.
Prints featured:
Front Row: Champagne Bottle 30x40cm; Sparkling Champagne 30x40cm
Back Row: Champagne Shade 50x70cm; Crystal Glass Shapes 50x70cm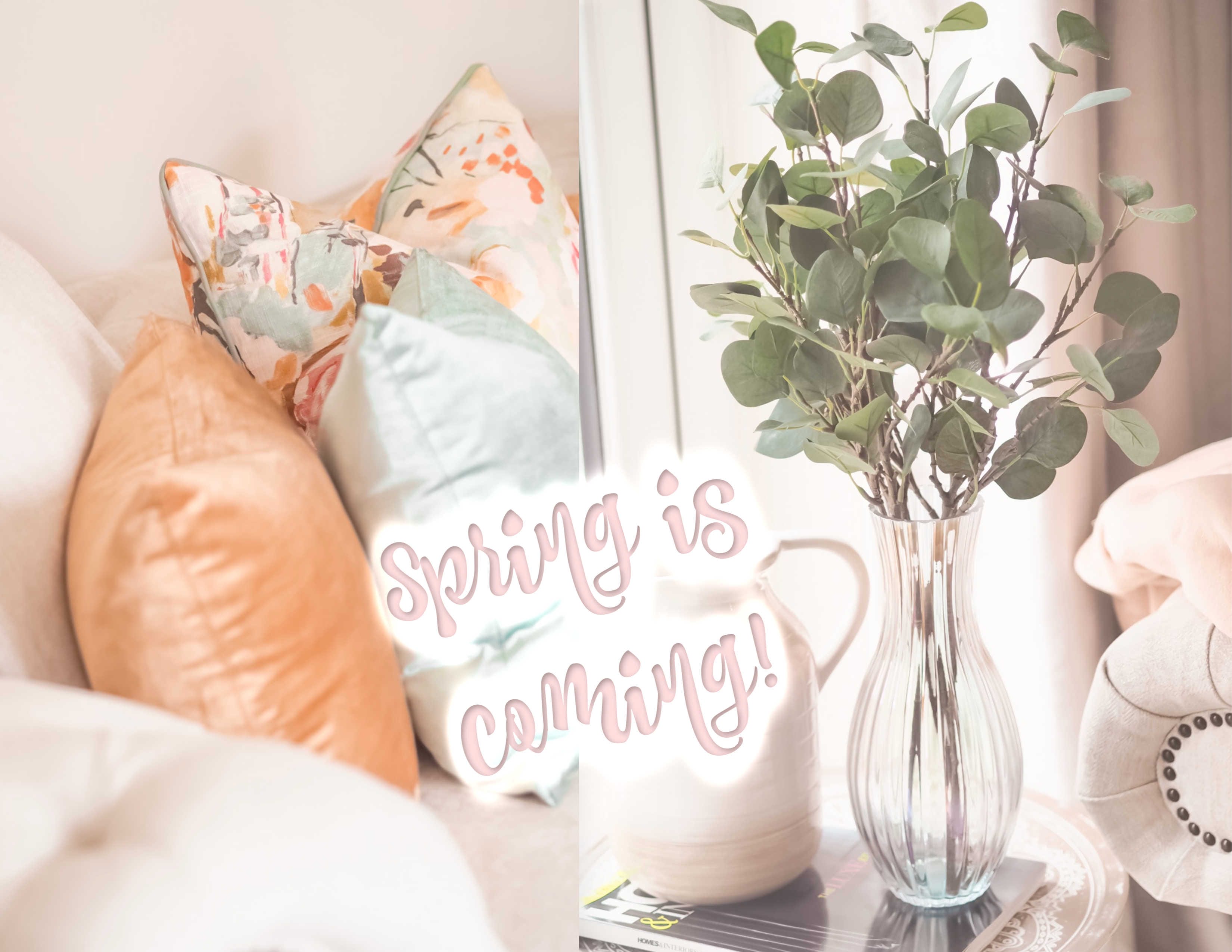 ADDING IN HINTS OF GREEN
Since moving in we've said from the start that we wanted to decorate with a lot of greenery – a combination of real and faux and now that Spring has arrived seems like the best time to start. I spotted these little faux sprigs of Eucalyptus in IKEA and immediately grabbed a bunch to put in my new vase (from the new Fox & Ivy range at Tesco). I love how affordable and easy it was to inject a little bit of colour and it's such an easy way to decorate for Spring. I also bought a gorgeous little faux wreath and matching hanging basket for our front door – again a very affordable but effective way to transition into Spring. They're by Edinburgh Weavers and I can't believe how much of a bargain they were. TK Maxx is always such a good place to pick up little bits when you're looking for a home refresh.
SOFT FURNISHINGS
Since we have a lot of neutral colours in our home I love how easy it is to switch up our soft furnishings such as cushions and throws. I spotted these pretty floral cushions in TK Maxx a few weeks ago and grabbed them straight away. They work so well with our current colour scheme. The fabric is also a linen mix which again is perfect for Spring and the quality is also gorgeous.
Bedding is another super easy way to spruce things up for Spring. This beautiful bedding is from Matalan and cost around £35. Doesn't it look way more expensive? I love all white bedding it's so fresh and crisp. It's also super easy to mix and match throws and cushions if you want to inject some colour. Do you spy my other print from Desenio too? I've been trying to get my hands on these white roses for the longest time and it finally came back into stock (perfect timing, right?!) so I snapped it up. Now I just need to decided where it's going to hang…living room or bedroom, I'm still undecided!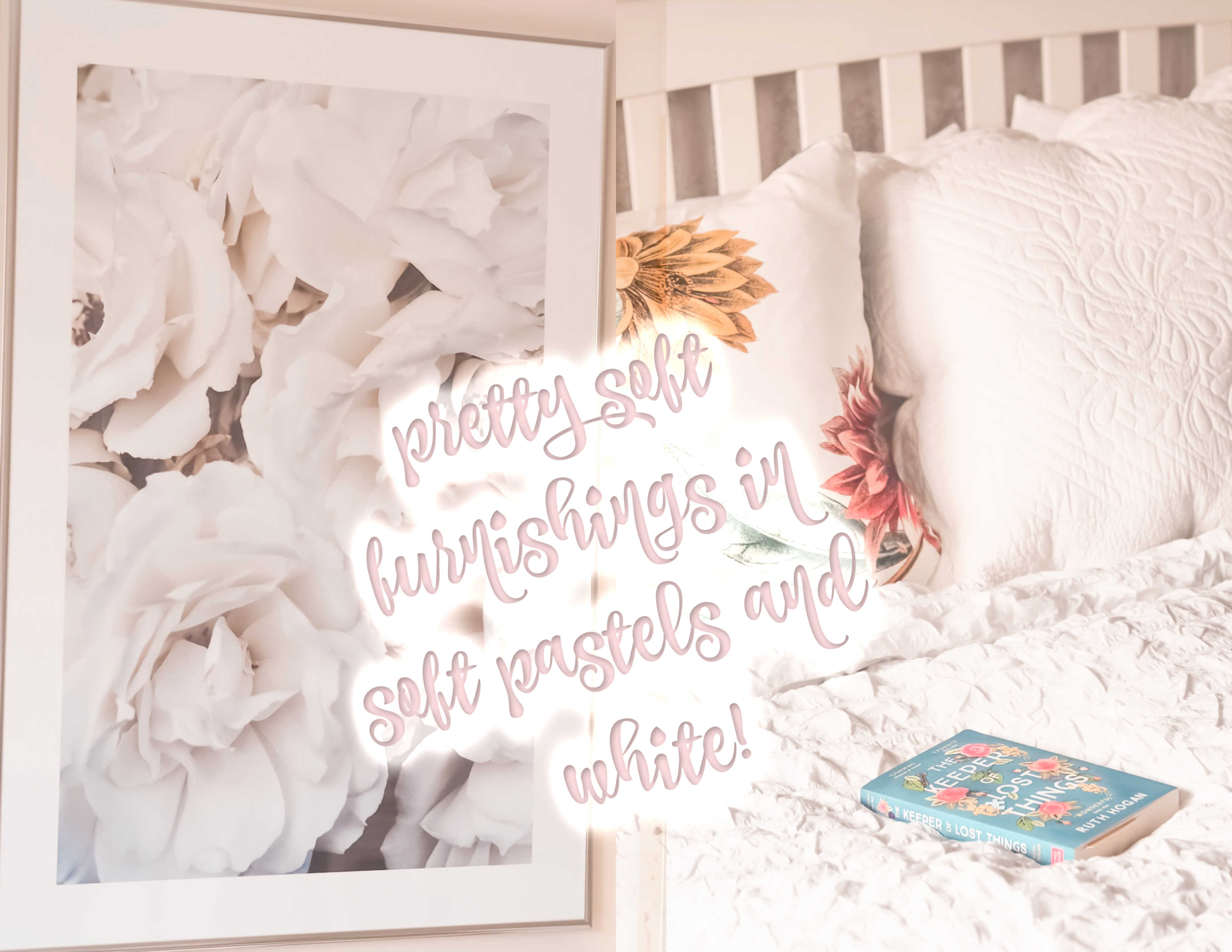 SOME OTHER HOMEY THNGS I'VE BEEN LUSTING AFTER…
Remember to follow me on Bloglovin and subscribe to my youtube channel so that you never miss a blog post/video!
Lots of love,
Chantelle xx
This post is in collaboration with Desenio who kindly gifted me the prints.
All thoughts, opinions and creative direction are my own.
Affiliate links may be used.