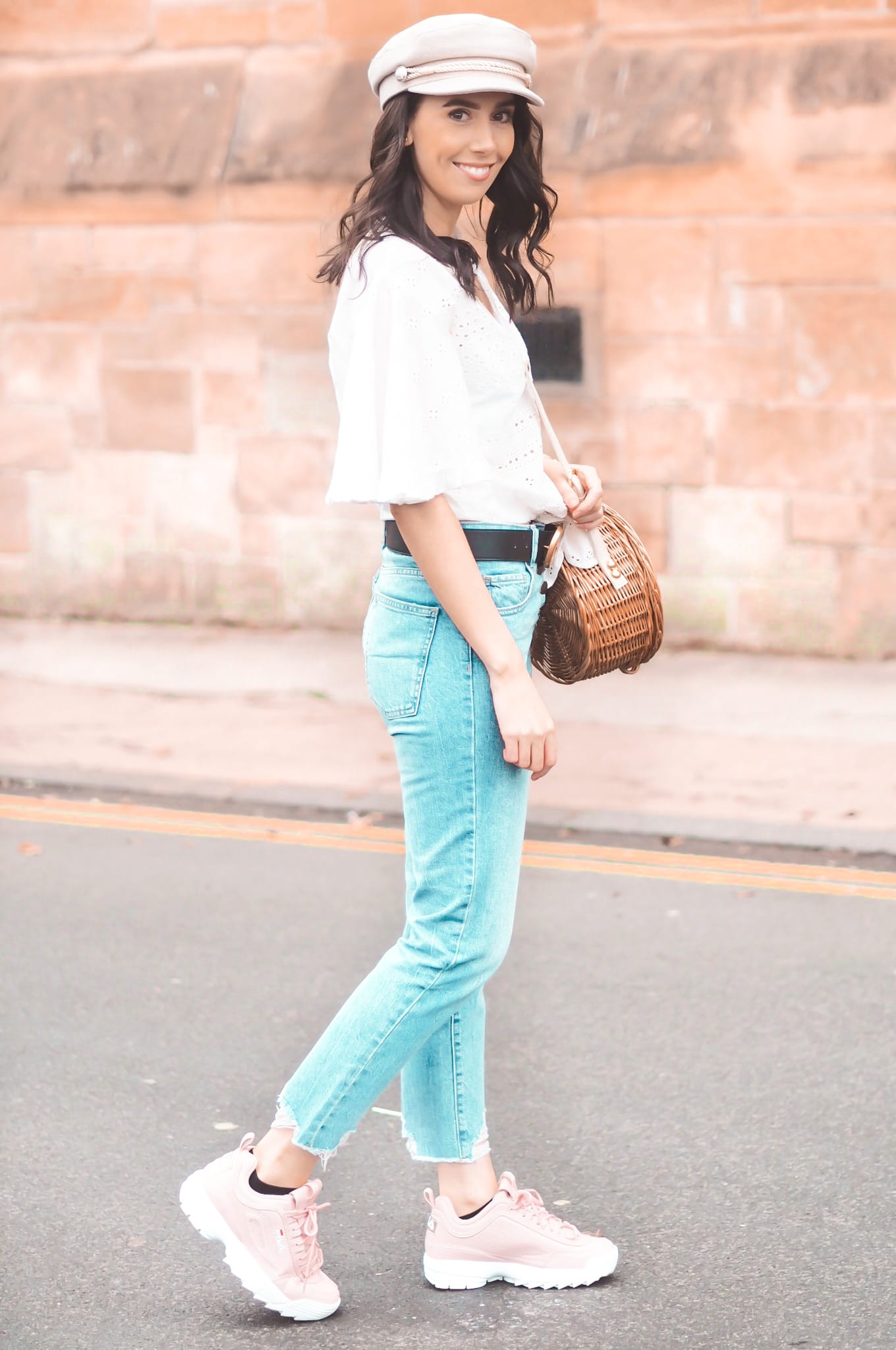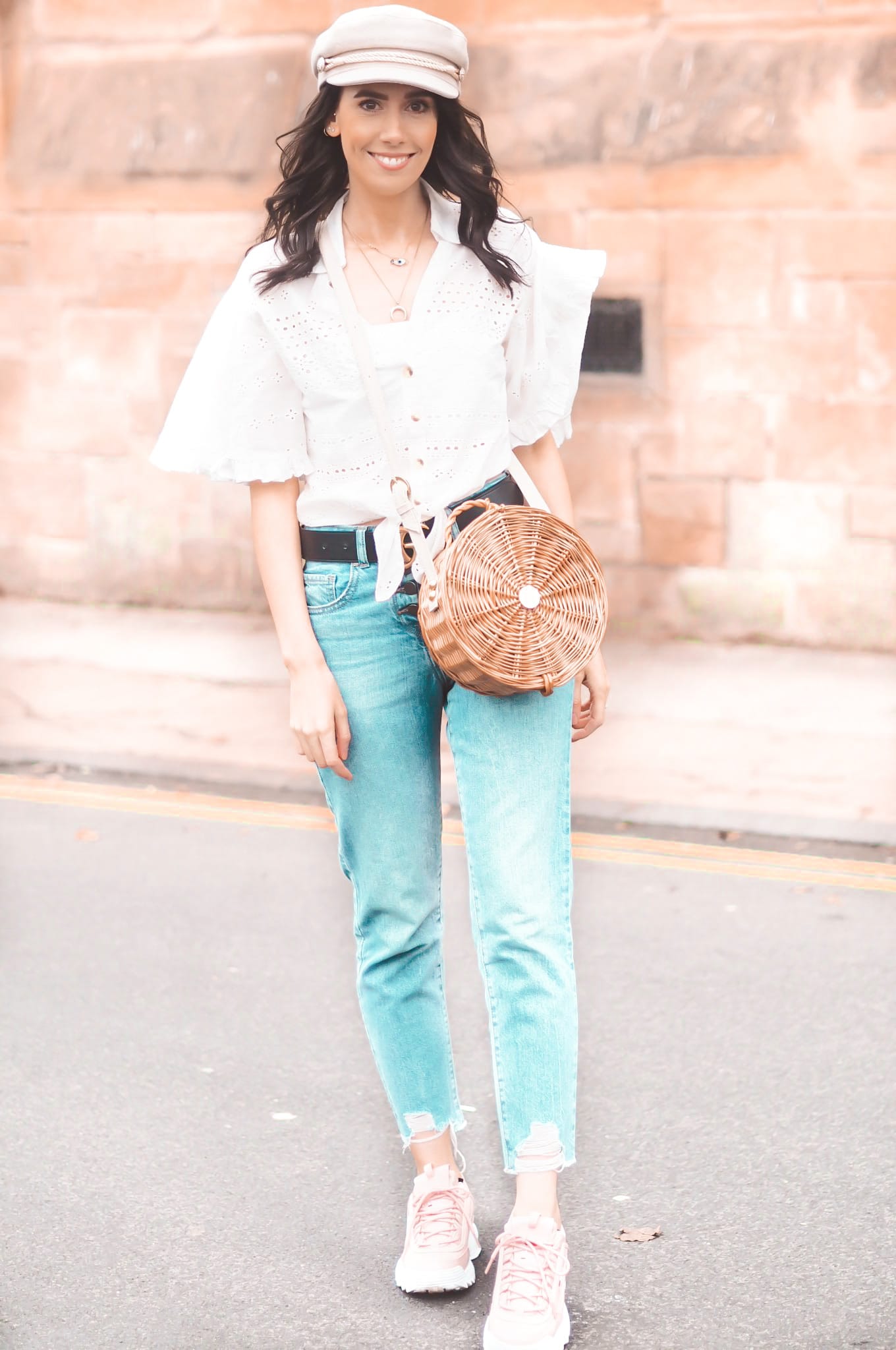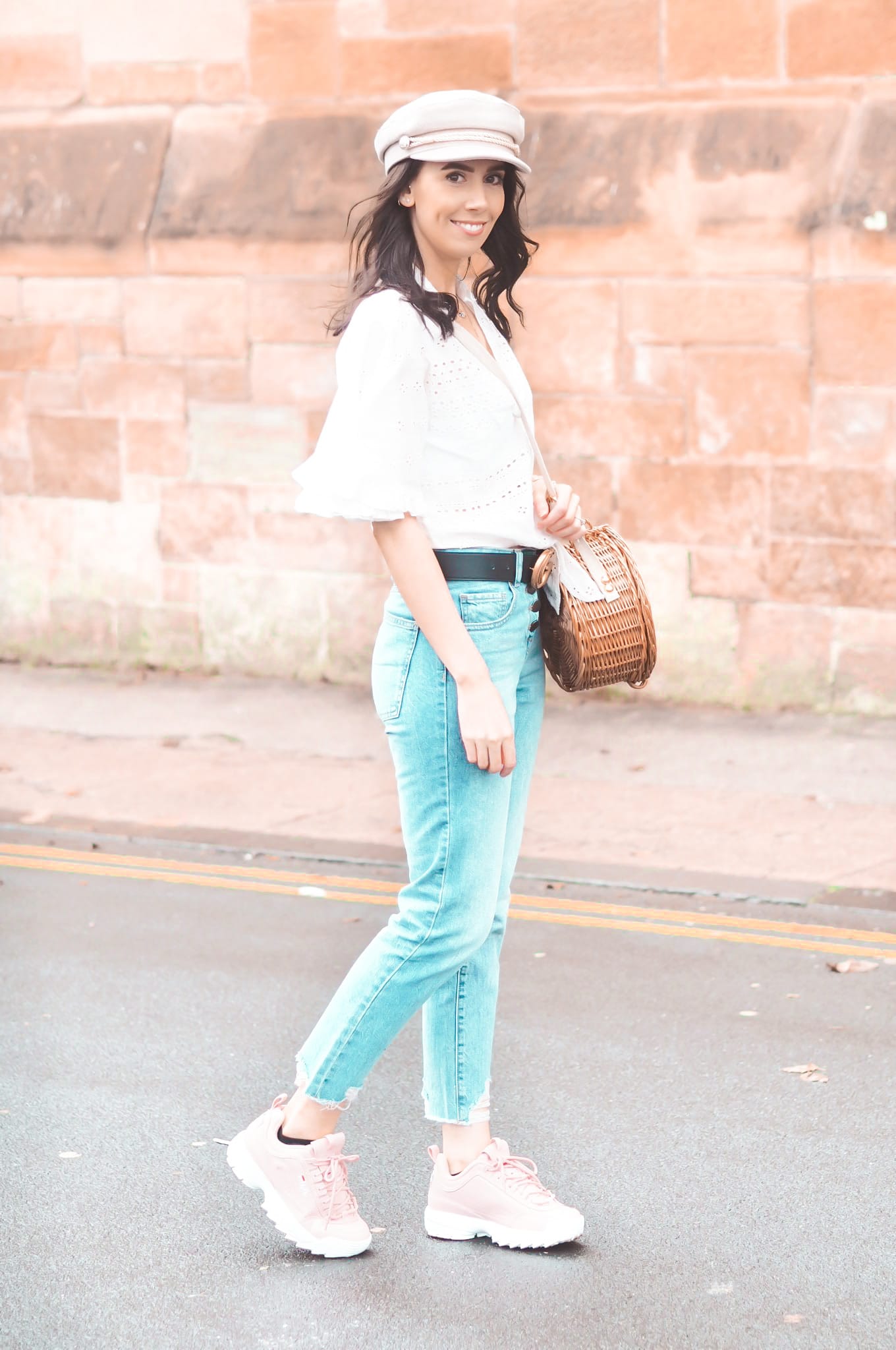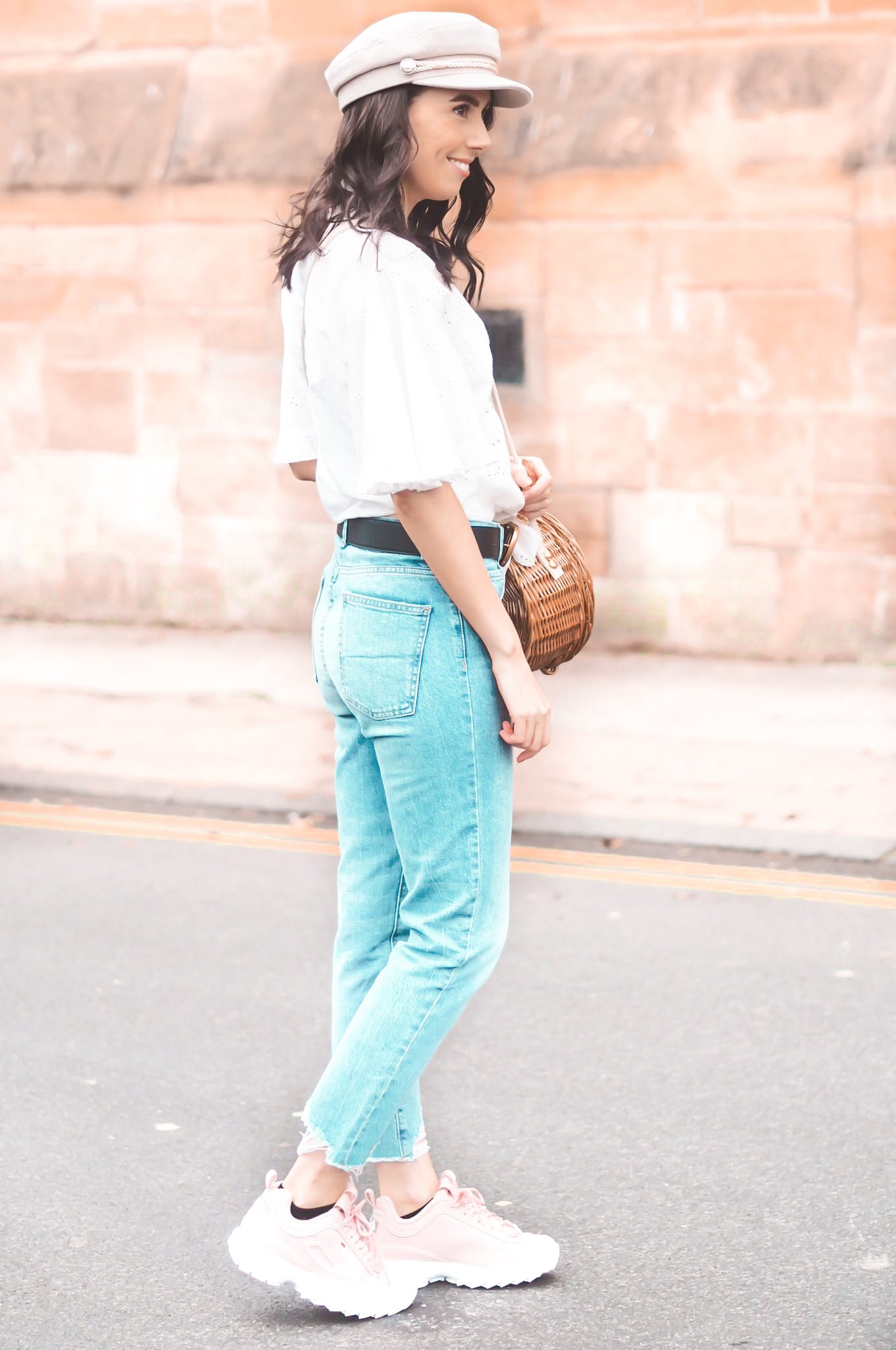 Happy Wednesday guys and gals, I hope you're all well! I've been doing some shopping *hides bank card* so today I thought I'd share with you one of my current favourite 'Spring uniforms' as well as a brand new Spring Primark Haul! Today's outfit just happens to contains 4 of my current favourite things – ugly trainers, captain's cap, wicker bags and broderie anglaise.
1. THE BRODERIE ANGLAISE TOP
It's official, I'm obsessed with broderie anglaise tops. Isn't this one pretty?! I picked up this gorgeous little floaty sleeve, tie waist number from River Island last week and I've hardly taken it off since. River Island have SO many gorgeous Spring tops in at the moment that I need – too many to choose just one and I'm obsessed with white broderie anglaise. It's just so pretty, feminine and fun! I also picked up another couple from Topshop (this one) and it's another one of my faves. I can't wait for the nicer weather to come in so that I can wear them more!!
2. THE UGLY TRAINER
If you follow me on instagram you'll know I'm obsessed with the ugly trainer – who knew, right? I have a feeling that we're all going to look back on the chunky, ugly, dad looking trainer next year and be like "what was I thinking?!" but for now I'm enjoying every minute of it while it lasts – gimme allll the comfort! I have the topshop ones (here) and the Fila Disruptors in pink patent – oh my word, LOVE them. Schuh is the only place that seems to have them back in stock in all sizes in quite a few colours – they have the Fila Disruptor II in plain pink leather and also the white ones (here), as well as some black and rose gold metallic ones but I don't think they'll stick around for long so get them now if you want them!
3. THE CAPTAINS CAP
I just can't get enough of the baker boy/captains cap, and I'm sure you all already know it! The latest one I've added to my collection is this sand coloured one from H&M. I've been wanting one of the Lack of Colour caps for ages (this one) and this is a perfect dupe and a fifth of the price! It's always sold out online – I should know, because it took me ages to track it down but it's so worth the effort!
4. THE ROUND WICKER BAG
I've wanted one of these round wicker bags for ages and finally found the one! It's by a brand called Hers Wave. All bags are handmade in Poland by women, using ethically sourced raw materials and it's quickly becoming one of my new favourite brands. I love finding new small brands, especially ones who care about the environment and love that I'm able to support other women in business too. The customer care is also fantastic. When I received my order it contained a lovely little hand written note thanking me for my support as well as a follow up email by one of the owners asking me if the bag was to my liking and if it arrived ok – SUCH a nice touch! If you're looking for a Summer bag I'd highly recommend you check them out – I have my eye on another 2 that I 100% need! FYI this bag shown here is the Cinque Terre in large.
5. THE PRIMARK HAUL
Of course it wouldn't be Spring without a Spring Primark Haul (woops). In addition to all the Spring goodies I picked up in Primark I've also included the items shown above – as well as some other items – at the end of the video because I knew some of you would be interested in seeing them 🙂 I hope you enjoy the video. Remember to thumbs up and subscribe (it's totally free, and it means you'll never miss a video from me!)
To watch my Spring Primark Haul, just click here.
Remember to follow me on Bloglovin and subscribe to my youtube channel so that you never miss a blog post/video!
Lots of love,
Chantelle xx
This is not a sponsored post.
All thoughts, opinions and creative direction are my own.
Affiliate links may be used.