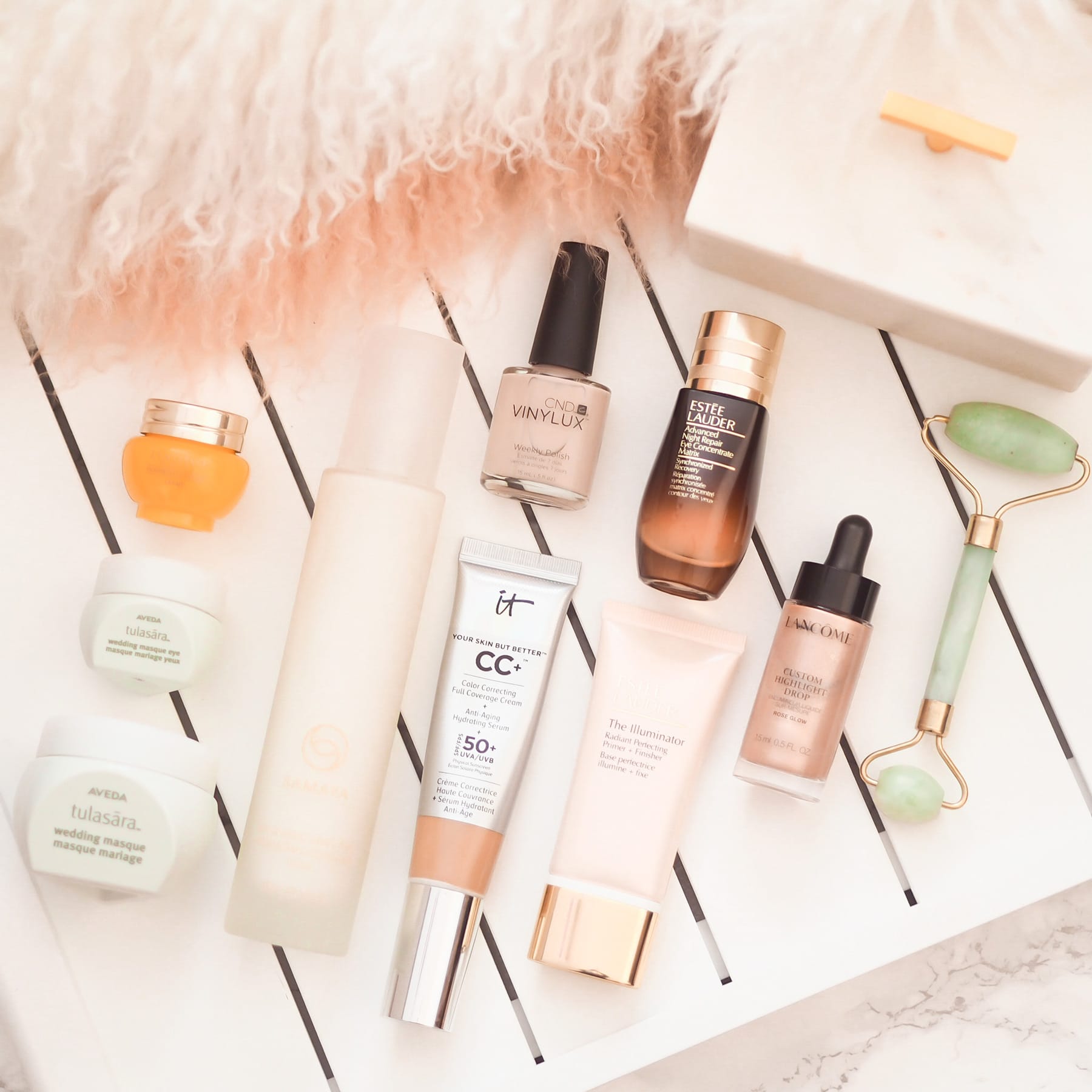 Whenever the seasons change I like to switch up my skincare and beauty routine. This year I've had to hold off a little longer given the – ahem – extreme weather conditions (I'm looking at you, snow!) but I've slowly but surely been adding in little changes here and there. And since the sun is shining today and it does indeed feel like Spring has finally arrived in Scotland I thought I'd share with you some of my favourite Spring picks! We'll start with skincare…
SPRING SKINCARE
L'occitane Immortelle Divine Creme: I'm actually surprised at how long it's taken me to try this cream. Can you believe up until this point I'd never actually tried anything from L'Occitane?! I KNOW. However in recent months in particular, a few of my favourite beauty bloggers have been raving about the brand so when I got my hands on this little sample pot I decided to give it a whirl. Well, I'm impressed. Its anti ageing formula is claimed to melt into the skin, nourish, reduce the appearance of wrinkles and leave the skin looking brighter and more even toned. It's still early days for me to notice any visible signs as yet but I love how it makes my skin feel – soft, hydrated, smooth and non-greasy. Next on my to buy list is some L'Occitane bodycare, particularly the Almond Milk Concentrate – let me know if any of you have tried it!
Aveda Tulasāra Wedding Masque and Eye Masque: I talked about the Aveda Tulasāra Renew Morning Creme back in Autumn (here) and loved it so I was super excited to get my hands on the Wedding Masque and Eye Masque.
"Wake up with luminous, wedding-day skin—every day."
This is an overnight creme masque that uses a potent turmeric extract to help brighten and even the look of skin tone over time. The result is super luminous, radiant skin in the morning. I LOVE this stuff. Even after my first use I loved it. It leaves the skin feeling plumped, radiant and non greasy which is a must for me. For someone with dehydrated skin it can be hard finding a balance as I need something that's hydrating but won't leave my skin feeling greasy or oily. This cream sinks in so quickly, doesn't feel tacky and makes my skin look so smooth come morning. The eye cream is just as great. My eyes get really dry and I do think this cream has helped tighten everything up (alongside another cream I'm going to talk about shortly!) Wedding or no wedding…you need these!
Samaya Ayurvedic Skincare Hydrating Cleanser Vata: This is probably the prettiest cleanser I own…just saying. The packaging is SO luxurious – heavy frosted glass bottle (not ideal for travelling but so pretty in the bathroom). Sorry, I digress – I'm such a sucker for pretty packaging! Onto the product – this cleanser has quickly became a new favourite, so much so that I never want it to run out. It's pricey at £69 for 100ml but in my opinion it is so worth it. It contains ayurvedic botanicals such as Rose, Turmeric, Tulsi, Gotu Kola and Ashwagandha – all with anti-ageing, anti inflammatory and anti-bacterial properties. I like to use this as my second cleanser and it melts in to the skin, changing from a cream to an oil like consistency. It reminds me of a product you'd get in a spa – so luxurious and feels absolutely gorgeous on the skin, it's like a mini facial! When I rinse it off it turns into a milky consistency and leaves my skin feeling so soft, purified, radiant and balanced. There's no residue left on the skin but it makes my skin feel so soft and hydrated. I've been using this a lot but I still have over two thirds of a bottle left so a little definitely does go a long way. I reviewed one of their facial oils back in Autumn last year too and again, love it so if you want to hear more about that you can read about it here. It really is a gorgeous brand.
SPRING MAKEUP
CND Vinylux Weekly Polish in 'Unmasked 269': I'm one of those people who is constantly having to touch up/reapply my nail polish. I love doing my own nails but I must be really heavy handed or something because polish just does not seem to last on me. It doesn't matter how good I prep my nails, what base coat, top coat I use or how long I leave it to set it just always finds a way to chip on me! So when this CND polish arrived on my desk I was hopeful but did have my doubts but hooooooray it's a winner! OK, it doesn't last a whole 7 days on me but I'd say 4/5 days is still pretty good. It's super pigmented so you're able to do a one coat job if you need to rush out the door and it applies like a gel polish. I love it. This shade is also the perfect warm toned pink nude – perfect for Spring!
IT Cosmetics CC Cream 50+ UVA/UVB: I can't believe it's taken me until now to mention this on my blog but it is hands down one of my favourite bases of all time. I got it for going on holiday last June since it has a broad spectrum SPF and I've been hooked ever since. When the nicer weather comes along I like to opt for something that feels and looks a bit lighter on sunny days but still gives a good coverage and this does all of that and more. It gives me radiant, dewy (but not greasy!), natural but flawless looking skin. I know that's a lot of claims but you really need to try this to see for yourself. I can't wait to get my hands on the new radiant CC cream that's just been released it sounds so dreamy!
Estee Lauder Advanced Night Repair Eye Concentrate Matrix: I think I've found a new holy grail eye cream. This stuff truly is amazing. My under eyes get incredibly dry and dehydrated looking, so applying full coverage concealers can look hideous – settling into fine lines and making everything look as dry as the Sahara desert. I need high coverage concealer though. See the dilemma? In steps Estee Lauder to save the day. I had this applied at a counter at the end of last year and it was a game changer. It hydrates and is the perfect primer for concealer. I also use it in the evenings and have been switching between this and the Aveda one. Seriously, if you have dry under-eyes or fine lines then you need to try this!
Estee Lauder The Illuminator Radiant Perfecting Primer + Finisher: Another EL favourite is this primer. As I've said before, I do get oily during the day so as much as I love a glowy look I need a base that's long lasting so I tend to reach for glow boosting primers to inject some JLo about me. This one is the perfect amount of glow – it peeks through my foundation without being too over the top and just gives a gorgeous natural lit from within look. I also like mixing a little bit in with my foundation too for days when I want to amp up the glow but have a slightly lighter coverage.
Lancôme Custom Highlighting Drops: Now for days when I want serious g l o w, this is the one! The Lancôme Custom Highlighting Drops are gorgeous. They come in 4 shades – I have 2: Rose Glow (shown above) and Golden Glow. They can be mixed in with foundation or applied to the high points of the face. I'm seriously in love with these. They're perfect for nights out when I want some serious glow on my cheek bones but they're also amazing mixed in with foundation – you only need the tiniest drop to give a gorgeous all over glowy look. I've definitely been gravitating more towards Rose Glow but I think I'll be using Golden Glow a lot when Summer comes along and I want more of a bronzed look. If you want to see what it looks like in action, check out my insta post here.
Jade Roller: Last but not least I had to give a wee mention to the bargain beauty gadget I picked up – my jade roller. They're said to boost circulation and reduce puffiness and although I think it's early days for seeing any noticeable results I've been loving using it. I like to use it after I apply my serum in the evening and it's such a little treat – it's so cooling. For this reason I think it would be amazing for those of you who suffer from puffiness in the mornings. They're available on Cult Beauty but they're always sold out so I picked mines up from Amazon for £9! This one also has a small roller for your eyes too which is fab! I'll keep you updated on this but I have high hopes for it!
And that's some of my current Spring beauty favourites – now I'm just praying the sun will stay out for a little lot longer!
Have you tried any of these products? I'd love to hear your thoughts on them!
Remember to follow me on Bloglovin and subscribe to my youtube channel so that you never miss a blog post/video!
Lots of love,
Chantelle xx
PIN ME!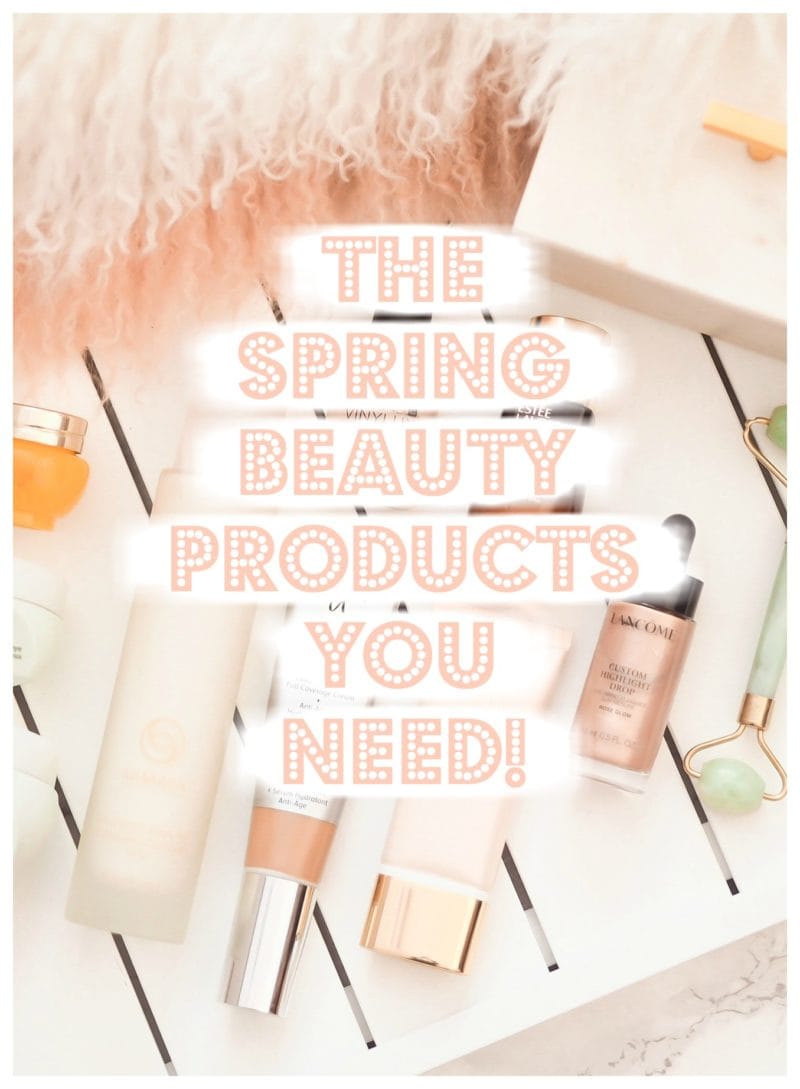 This post is not sponsored. Some items may have been gifted.
All thoughts, opinions and creative direction are my own.
Affiliate links may be used.